Map and Venue

Isle of Man Arts Centre
Thie Ellyn
Off Withington Road
DOUGLAS
We are very fortunate in being able to meet in these excellent premises but they are not the easiest premises to find. We hope that this map will help those who wish to visit us to find us more easily.
Thie Ellyn is situated between the two back lanes at the bottom of Withington Road. The entrance is situated in the top lane, but if you are coming by car, please use the lower lane in order to gain access to good parking facilities underneath the Arts Centre. (Watch out for the ever present wheelie bins along the lane, though !!!). The entrance to the Centre can then be reached via the short inter-linking rear lane which runs parallel to Withington Road.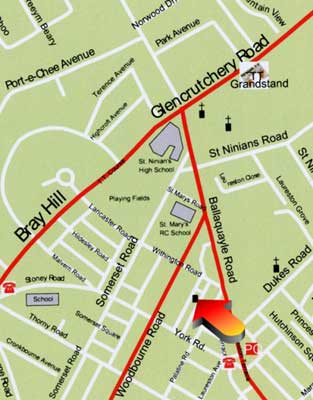 Map reproduced by kind permission of the Isle of Man Government.
For a wider view please follow this link and the tab for "Street Maps" when you get there. http://www.gov.im